Mayaguez Vets Memorial Dedicated
New posting 8/11/08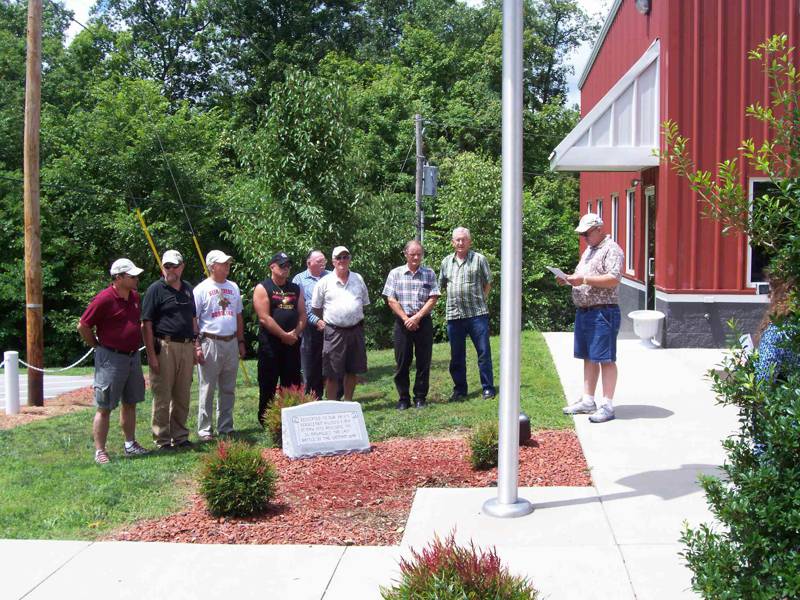 Jerry Gettelfinger (H&S 2/9 ) provided the land for a local fire station/Community Center where this Mayaguez Memorial was constructed.
He also designed and provided the monument for the Fire Station/Community Center.
The picture above is from a gathering of Koh Tang Vets. July 30th, 2008. Koh Tang Beach Club President Larry Barnett uses the same speech that Senator John McCain used in dedicating the Mayaguez Memorial at the US Ambassador's residence in Cambodia.
L to R Fred Morris, Dan Hoffman, Bob Blough, Al Bailey, Local Vet, Tom Noble, Jerry Gettelfinger, Local Vet, and Larry Barnett.
The Monument is located at: 7601 Hwy 337 NW, DePauw, IN 47115 this is in South West Indiana Jerry Gettelfinger contact information,; jerry.gettelfinger@in.usda.gov (812) 347-2065
Click on the thumbnails to see the photos full size
The Mayaguez memorial at the ambassador's residence. Click to see full size

Larger Print Version, touched up a bit. Click to see full size
keys:
Reunions, Camping, After, 1975, POW, Incident, Media, VFW, Post, 11575, What, New, organization, Store, Presidents, post 11575, Related, Links, Contact, Documents, after 1975, Memorial, MIA, Show, your, support, kohtang memorial, vet, pow / mia, Vets, Dedicated, Kohtang, 2012, Koh, Tang, Mayaguez, Veterans, vfw post, Web, Ring, Town, Webs, US, Flag